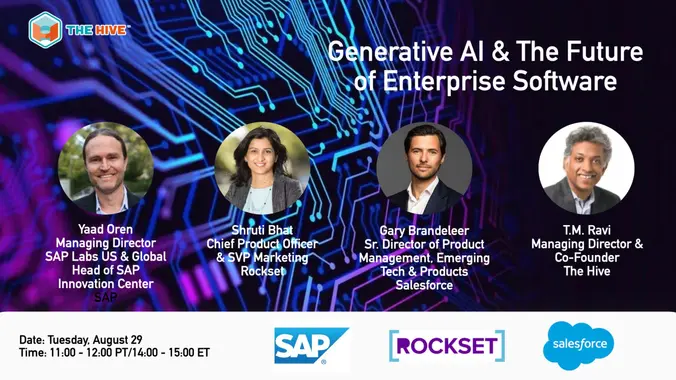 Register here: https://bit.ly/3oJ1S5R
Generative AI is becoming as much of a paradigm-shift to enterprise software as cloud and data have been in the past decade. The prevalent large language models (LLMs) in the market have already shown unprecedented abilities to generate complex code, business logic, data, knowledge summarization/management and conversational interactions with very little training and setup costs. These have far-reaching consequences in the development, delivery and hosting of enterprise software and SaaS. The evolution of low-code/no-code to AI code is blurring the line between the underlying software/SaaS platform and processes implemented on top of them disrupting the economies of platform roadmap and feature development. Generative data analytics is breaking across the silos of data management, business intelligence, data simulation and knowledge management with products like VectorDBs. The breakthrough success of ChatGPT and generative search is redefining conversational interactions and workflow designs for both B2C and B2B applications.
However, with these advancements come associated risks that both enterprises and software/SaaS vendors should consider. Generative AI's hallucinations risks, a term used to describe instances where the AI generates incorrect or nonsensical information, need robust validation systems. Intellectual property (IP) protection is another key topic, guarding enterprises' proprietary algorithms and data while using generative AI. Privacy issues related to the use of AI need to be addressed with user confidentiality protections. Transparency and explainability in generative AI systems are needed to ensure their ethical and responsible usage. Join us for this enlightening conversation on the future of enterprise software and discover how to harness the power of generative AI while effectively mitigating its associated risks.
This event hosted by The Hive Think Tank brings together a panel of thought leaders in enterprise software to explore how generative AI is reshaping the future of enterprise software.
***The webinar will take place on Zoom. Please register here: https://bit.ly/3oJ1S5R
About The Speakers:
Yaad Oren: As managing director for SAP Labs U.S., Yaad Oren is responsible for leading location strategy, ecosystem engagement, operations, communications, and employee engagement for SAP's ~5,500 development employees in more than 20 offices across the U.S. Yaad also leads the SAP Innovation Center Network, a global R&D organization focused on addressing the future needs of SAP's enterprise customers' by exploring emerging technologies and building early-stage products.
Shruti Bhat: Shruti Bhat leads product management and marketing at Rockset. Prior to Rockset, Shruti led Product Management for Oracle Cloud, with a focus on AI, IoT and Blockchain. Previously, Shruti was VP Marketing at Ravello Systems, where she drove the start-up's rapid growth from pre-launch to hundreds of customers and a successful acquisition. Prior to that, she was responsible for launching VMware's vSAN and has led engineering teams at HP and IBM.
Gary Brandeleer: Gary Brandeleer is a visionary product leader at Salesforce, where he serves in the Emerging Tech and Products department. He is also playing a key role in the development of salesforce, web3, and GPT based offerings, and played a key role in scaling Salesforce Field Service, contributing to areas such as Maintenance Management, IoT, and AI.
T.M. Ravi (Moderator): T. M. Ravi is Managing Director and co-founder of The Hive – a studio to co-create, fund and launch AI-powered enterprise startups. Ravi has been a pioneer as an investor and co-creator of startups that apply AI in the enterprise. The Hive engages with entrepreneurs and corporations to create companies focused on data and AI driven applications in the enterprise and industry segments such as financial services, insurance, and health.