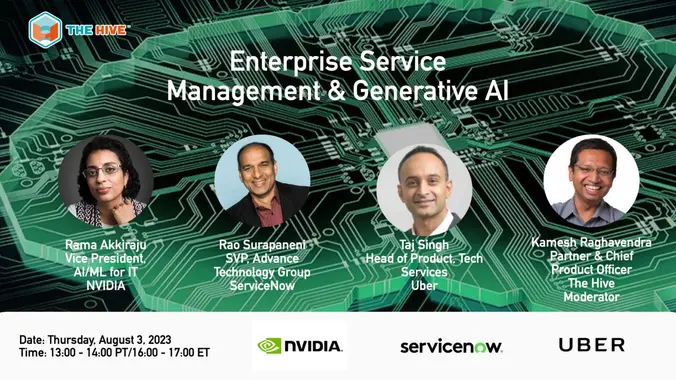 Register here: https://bit.ly/42F3NGq
Generative AI is rapidly turning into a knowledge work engine for enterprises by pairing itself with the human talent of knowledge workers, driven by its immense popularity (e.g. ChatGPT) and ease of use. Enterprise services like IT, security ops, customer success & support and HR have been important centers of excellence in knowledge work within the enterprise. The recent proliferation of generative AI as a second engine of knowledge work is causing radical shifts in the service platforms, workflow management and the experiences of employees and customers.
Service platform leaders are embedding generative AI deep in their offerings to be accessible across all workflows as seen in recent announcements like those from ServiceNow/NVIDIA and Microsoft/OpenAI. Early adopter workflows like service incidence prioritization & resolution, expert conversational bots and knowledge extraction & learning are redefining how IT and customer support operate with generative AI. Generative AI also brings many challenges of emerging technologies like hallucination risks, uncertainties around regulations, economics of large foundational models vs. small models and risks of data/IP leakage.
This event organized by The Hive Think Tank brings together a panel of enterprise service and generative AI leaders, who are crafting the engines of AI and knowledge workers to drive the next wave of enterprise digital transformation over this decade.
***The webinar will take place on Zoom. Please register here: https://bit.ly/42F3NGq
Speakers:
Rama Akkiraju: Rama Akkiraju is a vice president of AI for IT at NVIDIA. Prior to this, Rama held various leadership roles at IBM in her two decades-plus career. Most recently, Rama was an IBM Fellow, Master Inventor, and an IBM Academy Member at IBM, where she was the CTO of IBM Watson AI Operations product, a product to optimize IT operations management with AI.
Rao Surapaneni: Rao Surapaneni is SVP Science & Engineering – Advance Technology Group at ServiceNow, leading AI platform development that powers intelligent experiences. During his tenure, he has led various product engineering organizations and served as country head in India during the company's rapid growth phase. Before that, Rao led engineering at Tellme Networks (acquired by Microsoft), Veraz Networks and Lucent/AT&T Bell Labs. He is passionate about bringing innovative products to market by converging disruptive technologies and delightful user experiences.
Taj Singh: Taj is the Head of Product, Tech Services at Uber. He is a transformational product executive with 15 years of experience leading product creation, growth, and business endeavors to deliver memorable customer experiences for consumers and enterprises. Singh focuses on growth within emerging technology environments: ai, conversational ai, employee experience, customer experience, and customer service.
Kamesh Raghavendra: Kamesh Raghavendra is the Partner and Chief Product Officer at The Hive – a studio to co-create, fund and launch AI-powered enterprise startups. He has driven both investments and co-creations across enterprise SaaS, cyber-security, fintech, insurtech and health-tech over the past decade. Prior to The Hive, he held operating roles in technology and financial services at NetApp and Goldman Sachs.